So, I'd like to send a shout out to my friend Karly over at
Three in Three
.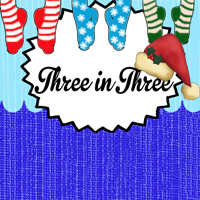 She's a great momma of 3 adorable girls--I don't think they can take a bad picture. I love her sense of humor about motherhood and life in general. I was seriously laughing out loud reading her recent
confessional
. She also has some mad crafting skills. You can check out her work at her
shop
.
So, I wanted to do an Ad Swap for the month of December. I am a little behind on starting this, but I will be accepting ads until friday the 3rd. It sounds really official, but pretty much you give me your button, I give you mine, and we both put them up on our blog. At some point in the month, I will do a post highlighting your blog. The end. Short and simple. So, here are some of my stats:
4,518 Pageviews last month
40 followers via GFC
If you are interested, post a comment here or contact me through the contact tab at the top of the page.